Impact on Business
Express Drain Cleaning has a fantastic reputation for being timely, responsive and highly service oriented. When the owner decided to create a website, the same qualities were implemented. The website deign would contain three major characteristics. One, the website would be simple to navigate and use. Two, the website would adapt to any device a guest uses. And three, the website would include their services while highlighting their achievements within the plumbing industry.
With Express Drain Cleaning, they seek to have personal interaction with those they serve. By developing a website for their company, they were able to extend their business information further. Guests are able to learn about Express Drain Cleaning any time of the day. Using a conventional website style, visitors feel quite comfortable when viewing the website as they know what to expect. The menus are clean, clear and concise. The page flows together and information is easy to find.
The next feature was designing the website to be responsive. Our team of developers studied the page layout in different devices. By focusing on different view port sizes we were able to achieve the same experience across all devices. Visitors don't have to slide their finger all over the screen to see all of the content. We designed the content to be formatted and contained within the window. The website for Express Drain Cleaning performs well on any device, a service that many guests enjoy.
Finally, the content for site. Leaning from Express Drain Cleaning, we listed their services in a way visitors could relate to. We added reviews and testimonials from real individuals, which are an important decision factor when it comes to business. Express Drain Cleaning believes in transparency and seeks to be a business partner with their clients. For that, we put together videos of Express Drain Cleaning and what they are about, adding that personal feel. Now, guests could put a face with the business.
The website proved to be a vital component to their business growth. New customers are continually choosing Express Drain Cleaning for their plumbing needs. The website has enhanced their over-all business development. More people are finding out about Express Drain Cleaning and their website plays an active role in telling their story.

Thinking Outside the Box
Sometimes less is more. When designing a website for Express Drain Cleaning, there were many different avenues we could have went with the website. But there was a drawback, lack of personal interaction. The website had to tell a story, it had to be personal and it had to perform. Our developers took the following approach of bringing to life the Express Drain Cleaning website.
Personalization
Chico Drain Cleaning is known for their personal touch when it comes to doing business. We aimed to have the same feeling when it came to guests visiting the website. To do that, we met with the owner and went through an extensive brainstorming process. What are they about, what sets them apart and what is important to them and their services. The feedback we received was great. With plumbing service being an intimate service, we realized customer assurance is important. By being transparent, Chico Drain Cleaning wants you to know them intimately too. They want you to know the owner, who he is, what he's doing, and what to expect by his visit. No hidden surprises, no guessing, no awkward moments. We were able to achieve this level of intimacy by adding supportive content to the website, like personal videos, testimonials, reviews and informational pages to the website.
Responsiveness
At the time of the website being built, responsive websites were becoming common, but it wasn't as it is today. Express Drain Cleaning wanted to offer a user friendly website that was easy to navigate through whether you are on a PC, or a mobile phone. This included content resizing and reposition itself based on the view port size. Menus would shift into a mobile format, while a conventional menu would be viewed on laptops and PCs. Our development team created a tailored layout that would best suit the visitors. Videos, images and text all positioned in an organized format. Thus, allowing for an enjoyable visitor experience.
Informational
Prior to the website, anyone who wanted to know about Express Drain Cleaning would have to call the company or hear from others (word of mouth). Although referrals are always great, there are those who are looking for a good Plumber and will miss out on the opportunity to work with Express Drain Cleaning due to lack of information. The website for our friends at Express Drain Cleaning highlights their services. Guests who visit the website can learn about the company, their accomplishments and head "real-life" testimonials. Visitors can gain the knowledge they are looking for to make an informed decision.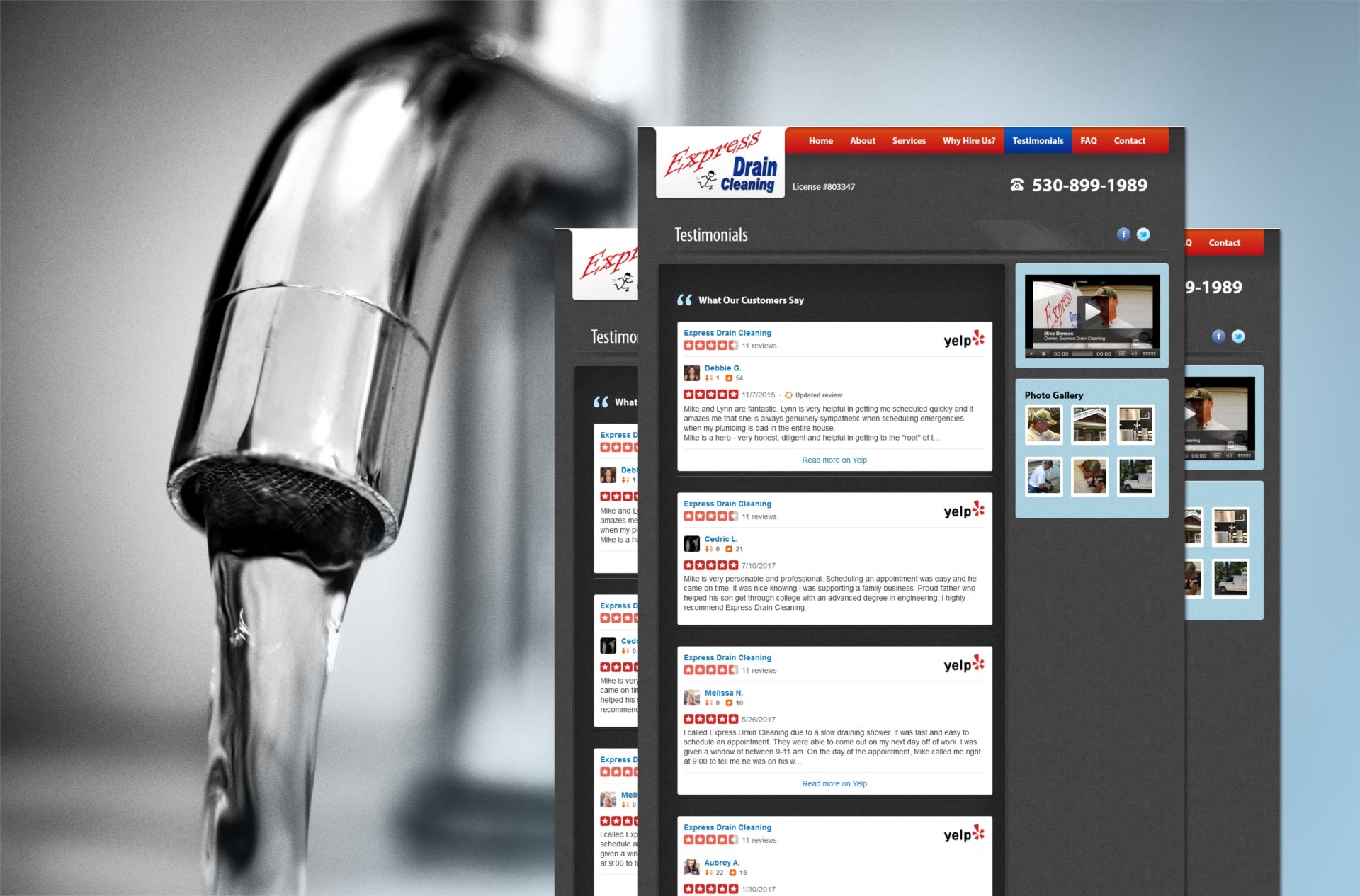 "Your website needs to tell a story."