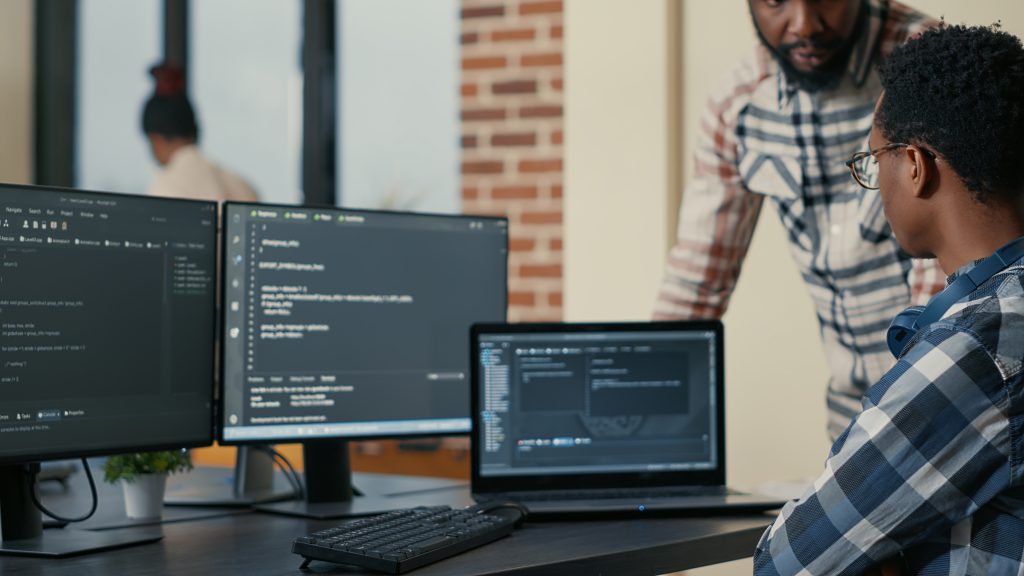 Focused software developer writing code on laptop looking at multiple screens with programming language is interrupted by colleague coder asking for advice. Programmers doing online cloud computing.
Many start their journey in the digital world with the same question, "What is Web Development?" It won't save the world (or the Internet, as it may be) here, but I thought I'd throw in my home-grown definition of what web development is:
Web Development is the general procedure involved in developing or creating websites for the Internet. More specifically, web development involves web site design, HTML markup and styling. Web development can also include server-side programming and client-side programming.
I typically will develop websites using PHP (a popular server-side programming language), HTML, CSS, JavaScript and AJAX.
You can learn more about our websites by visiting our page, Responsive Website Design service.
In addition, the web pages I build are often database-driven. One project may involve creating the simplest static single-page website. Another customer may need a complex custom web-based Internet application developed – such as a businesses intranet portal, e-commerce shopping cart, blog, for forum – which relies heavily on databases. Whatever you dream up, I can build it.
If you already have a website, but would like it to be faster, we offer a Website Performance Tuning service which tackles the hurdle of website performance speed bumps. Websites built years ago worked for their time, but with the latest demands of the digital world, users expect websites to be quick, informative and secure.
Well, there you have it. Are your eyes now glassed over and pale from glaze? Don't worry… I'll stop before you start foaming at the mouth. I've got to remember that I live in the programming world 14 hours a day and most people reading this are just getting introduced to the idea.
Anyway, what you need to know for your business or service is that, with a great looking and resourceful website, or useful web-based application, you have an incredible opportunity to reach a lot of people with whatever you are offering. More people than ever are using the Internet a source for money-making or purchasing opportunities, locating contact information, or getting background on businesses before they ever pick up the phone to call or send an email. So it only makes sense to invest in a great website, even if you're new to the concept of web development or programming.
Web development is the means by which I carve your vision on the Internet.
If you are in the Chico (Northern California) area and would like to discuss your web development needs over coffee, I'd like to hear from you. Just shoot me an email at [email protected].
Posted by: Sitehatchery.com – a Chico web development company providing web design and development services nationwide.